T-SHIRT ORDERING INFORMATION
1. Use a 3 x 5 index card (or a 1/4 sheet of paper). Please draw picture vertically on the index card. Have children draw their own self-portraits. Heads only please. They should write their own name UNDER their picture-SEPARATE from their head (Please no names in hair, neck, clothing, or overlapping the portrait).
2. Use only black marker. A Sharpie works well. Please do not use crayons or pencil. If you have the child draw in pencil first, please trace over them with Sharpie and erase pencil marks. This works well for younger grades.
3. For best results, talk to the children about their individual characteristics. Do they have freckles, curly hair, ears, glasses, eyebrows, eyelashes, missing teeth, pig tails, a bow, etc.
4. Determine shirt color and shirt sizes that you need. There is a 15 piece minimum per class. Feel free to use the parent order form to send home to the parents. (See color choices under the "Products" tab).
5. Enclose a check or call with credit card information. Mail your pictures and the completed teacher order form to:
Whitney Daniels Designs
2460 Bengal Blvd.
Salt Lake City, UT 84121
Whitney Daniels Designs • 2460 Bengal Boulevard, Salt Lake City, UT • (801)272-5688
** Please be sure to fill out the order form entirely to avoid delays in shipping **
T-SHIRT ORDERING INFORMATION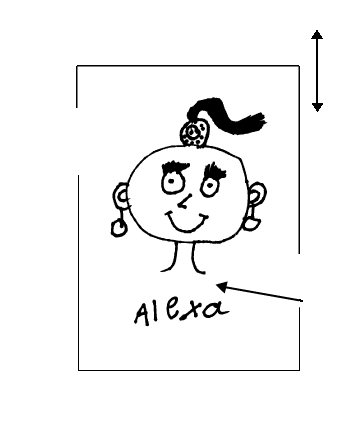 LEAVE SPACE BETWEEN
HEAD AND NAME
USE BLACK INK.
NO PENCIL OR CRAYON
(IF DRAWN WITH PENCIL, TRACE OVER WITH PEN)
FACES AND NAMES ARE CUT/PASTED AND SIZED INDIVIDUALLY. SO DON'T WORRY ABOUT SIZING
DRAW PICTURE ON
INDEX CARD VERTICALLY